2013 Guangxi First Grade Liubao Tea 100g

We bought several baskets of this tea two years ago and have been storing it in the warehouse to allow it to slowly and naturally aging.
We tried to find some smaller producer of liubao tea with classic taste. There are many small factories, but their materials and production process can not meet our requirements. We finally met a good small factory based in Wuzhou, with production very close in taste and quality to Three Cranes and using Guangxi tea leaves.
This tea come from 2013 harvest, after fermentation stored in Wuzhou factory warehouse. Selected first grade (yi ji) grade leaves with good portion of buds, pressed into medium size 15kg baskets.
Strong, full tea soup, sweet and thick, Aroma of beneficial fungus and dried herbs, dark chocolate tones in first few steps and with fruity taste in late infusions, very smooth !
Edit 2022/8 The wholesale price in Wuzhou is now same as our price online, so there is no any quantity discount for this tea.
Production: 2013
Weight: 100g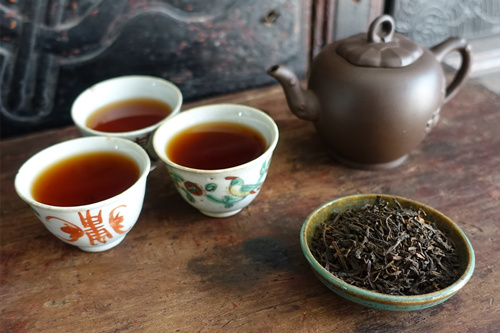 More Information

| | |
| --- | --- |
| Price | $10.00 |