Dali Wood Fired Tea Pitcher 120ml

Jingtian Village in Fengyi Town, Dali, has a history of firing kilns for more than 600 years since the Ming Dynasty, and many ancient kiln sites are still preserved in the mountains behind. In the early years, four families of Dong, Su, Zhang and Yang built kilns in Jingtian Village, firing clay pottery products with various shapes.
There is still few active dragon kilns which is very rare nowadays. The temperature of the dragon kiln needs to be precisely controlled. Experienced potters can judge the temperature in the kiln by the color of the flame. When the light emitted from the kiln turns white, the temperature in the kiln basically reaches about 1200 degrees.
The clay and sand mud in the back mountain of the village are especially suitable for making pottery. Before making pottery, the clay and sand mud should be recovered and mixed in proportion, soaked in water and fermented for six months. Potters are still using the most traditional 'slow wheel' for manual work, which requires years of experience and skill accumulation.
Each of these pitchers is original. All of them are hand made and so each slightly different. We picked few of these from batch of similar glaze and same shape and size from same potter. Those are quite high quality pottery.
This six side pitcher have some delicate wood fired effects.
Height : 7cm
Capacity : 120ml (1400ml full)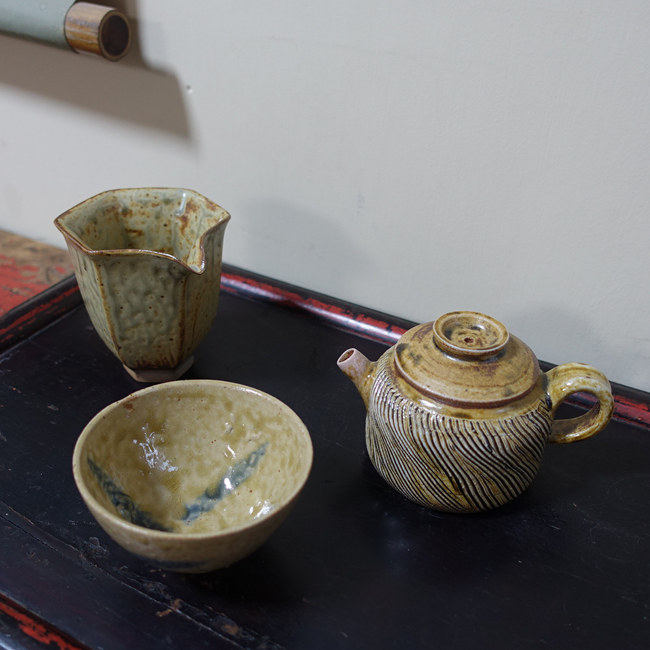 More Information

| | |
| --- | --- |
| Price | $35.00 |